Material: Plastic
Model Number: Portable pet paw cleaner cup brush dog foot cleaner for cat
Material: Soft silicone
Color: Blue, Pink
Size: S, M
Shape: Paw plunger cup design
Target: Dog, Cat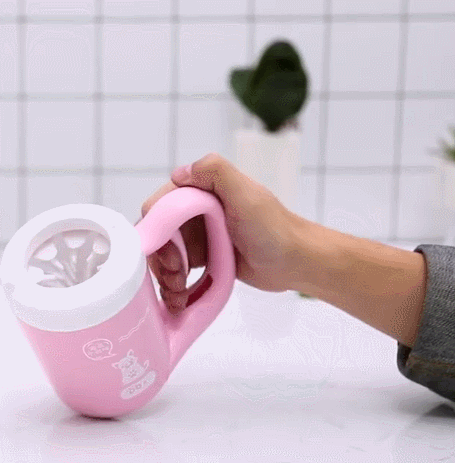 ROTATABLE DOG FOOT WASHER - This paw cleaner has a revolutionary innovative design of rotating brush. You don't have to twist manually. It's much more convenient than a traditional washer cup.

THE EVERYDAY MUDDY PAWS CLEANER - This portable pet paw cleaner is designed with you and your fur baby in mind. The plunger cleans your dog's paws quickly, reducing indoor mess and floor stains, and preventing paw irritation from contaminates

LET THE PAW CLEANER DO THE WORK - The ultimate in dog gadgets with soft bristles to easily remove dirt from paws, nails, and lower legs in seconds. The convenient handle and wide no-spill opening assists fast and effective cleaning paw plunger for dogs

Skin-friendly material - Soft, healthy, and skin-friendly silicone brush gives your pet a comfortable massage. Thanks to the portable design, you can clean your furry friend everywhere - even in your car! No longer have to worry about pets soiling your car.

SIZE - Paw cleaner for small dogs weighing up to 25 pounds. The silicone cup measures approximately 5.1 x 4.5 x 3.5 inches, Opening: S - 2.2 inches, M: 2.6 inches. Measure your pet before purchase. It's the ideal portable pet paw cleaner.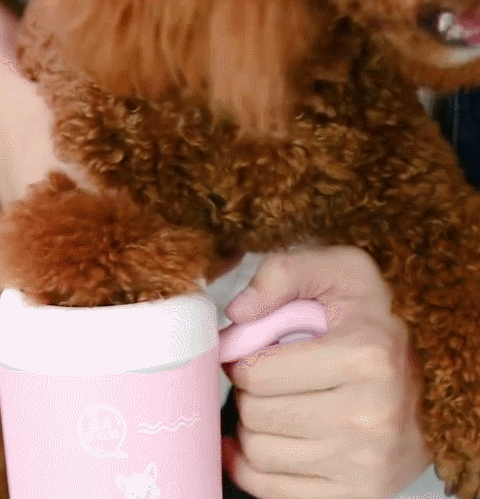 1.Don't put too much water in the cleansing cup
2.Before cleaning, please check your pet's nails should not be too long, so as not to affect the use.
3.When cleaning, the toes are aligned at the seam of the cup cover
4.After cleaning, remove excess water from the silicone draining tablets
5.Before cleaning, you can use the snacks that dogs love to use as an inducement. After completing the action, give food as a comfort and encouragement.
6.When using, do not force the dog to let the dog cooperate with the cleaning. In order to avoid conflicts
 
The dimensions are as follows: (Please measure the dog's feet before purchasing)

Outdoor portable pet dog paw cleaner cup 360 ° soft silicone foot washer clean dog paws one click manual quick feet wash cleaner
Description:
Material:Soft silicone
Color:blue,pink
Suitable for cats, small and medium dogs
External dimensions: 5.1 x 4.5 x 3.5 inches / 13 * 11.5 * 9cm
Internal diameter: S-2.2inchs / 5.56cm, M-2.6inchs / 6.68cm

Feature:
There are a number of different ways you can clean your dog's feet, but the easiest and most effective way to do so is with the help of a paw washer.
Paw washers are designed to be small and portable. These can go with you on your walk, which gives you a chance to wash your pup's paws as needed.
Sometimes, it may take a little time for your dog to get used to the cup, but with patience and rewards, most dogs adapt just fine.

How to Use:
1.Add some water to the cup (Or add a bit of gentle soap for deeper cleaning if needed).
2.Put the dog's paw into the cup, rotating or push up and down to let the silicone bristles clean the paw thoroughly.
3.Remove pet's paw and dab the paw dry. Pour out the dirty water and wash the silicone brush.
4.Repeat same process for other three paws.

Package:
1x Dog Paw Cleaner
The dimensions are as follows: (Please measure the dog's feet before purchasing)
Fast global shipping (Delivery Within Approx 7-12Days)
Processing time usually takes between 1-3 days
Standard Shipping charges start at $4.99, based on the weight of the item

We provide Free Shipping on orders over $45
🔥Fast refund,100% Money Back Guarantee.
If your product is defective or doesn't work properly, let us know and we'll send you a replacement one.
Refunds
We believe in our products so much that we offer a 30-day No-Hassle refund policy. If you're unhappy about your purchase, send us the product back and we'll refund your money immediately.
CANCELLATION / CHANGES
If you need to change or cancel your order, please contact us immediately. We process and ship orders quickly (we're fast!). Once our warehouse has processed your order, we will be unable to make any changes.